Have you felt that our Universities do not prepare students for 'employability'? Students study well, get good marks. And when they join a job, employers find them short of being ready to perform.
Why?
Because they still have to negotiate the last mile.
In the past 4 years that I have coached close to a thousand PMP students, this has been one of the most common reason for failing PMP exam.
They study well using PMBOK and other primary study resources, but then fail to truly equip themselves to pass the exam.
They lack the resources and practice to tie it all together so they can actually negotiate those 4 hours on the exam with ease and come up with flying colors.
What is the solution?
This is the reason I created PMP 'Last Mile' study resources.
This is a set of highly effective study artifacts, strategies, tools, and information that prepare you well for the Last Mile before the exam.
Many of the PMP students that have used PMP Last Mile prep resources have attributed it as an important aspect of their PMP success.

"Hi Shiv, Just thought I'll let you know I passed my PMP exam yesterday and I had purchased your bundle of ebooks, which were quite helpful in my preparation.

I used the exam taking notes you mentioned and used the same strategy for exam coverage and it helped me save valuable time… …Thanks Once Again!"

– David C, Toronto
What does PMP Last Mile Prep resource contain?
In a nutshell, this is what it covers -
1. A proven test-taking strategy based on psychology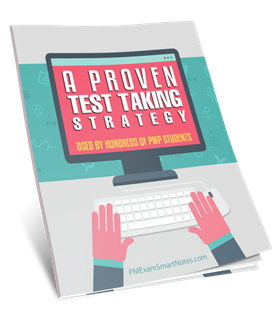 This strategy allows you to utilize 4 hours on the exam in such a way that you answer more questions right.
You'll be in a stress-free mindset throughout the exam, and as you go through the exam you continuously add seconds to the 'remaining time' on the exam.
This is so simple that once you know you'll wonder why you didn't think about this earlier.
Simply apply to one or two 4-hr mock tests and you will see the power of this technique.
2. PMP Exam Simulator (5 mock tests of 50 questions each)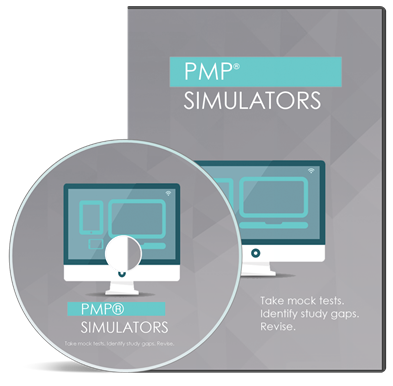 Mock tests are the BEST way to test waters. See how it feels to apply what you have learned to exam questions and come up with answers.
Practice timing each mock test of 50 questions within an hour and check your exam preparedness.
Identify areas that need additional focus, so you can include them in your next revision.

Apply the techniques you learn from other sections in this course and practice answering questions in the least amount of time.
3. Over 337+ PMP sample questions (and answers)

This is a book containing 337+ PMP sample questions and their answers. Shared in PMExamSmartNotes community.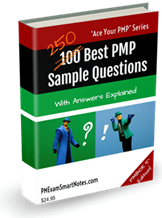 The best way to use this is not to TEST your PMP knowledge, but to identify gaps in your understanding and focus on those areas.
The other objective from these questions should be to learn how to apply what you have learned during your PMP study to questions.
Do not time yourself when you attempt these questions, but simply use them to achieve the above objectives.
Answers are provided with necessary explanation.

4. eBook: The Complete PMP Formula Guide

With luck you may get 15-30 formula based questions in the exam.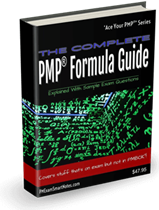 Some of the formulas that may appear on PMP exam are not available in PMBOK. They are to be sourced from different books.
Without knowing which books to get these from what is the easiest way to study them all?
'The Complete PMP Formula Guide' book solves the problem for you.
All the formulas are explained with contextual background (so you understand them easily), and applied to multiple sample PMP questions (so you learn how to apply these formulas to an exam question and solve it).
"Hi Shiv,
I cleared the exam today with all 5 'Proficient' score. Thanks for your formula guide – it worked really well for me."
–
5. eBook: How to Create Effective Mind Maps

Mind map is one of the best tools that eases study efforts for not only PMP but any exam you're gunning for.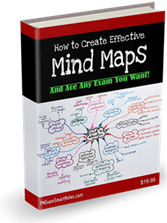 Understanding how to create effective Mind maps will help you –
prepare your study plan
get high level picture of each of Process Groups and Knowledge Areas
map complex PMP concepts such as Earned Value Management, Contract types, Cost Forecasting, Types of OPAs & EEFs, causes for change requests and so on
understand Tools and Techniques of critical processes such as components of Staff Management Plan, Team management techniques and so on
map and understand critical ITTOs such as those for Human Resource management
map and understand sequences between processes along KAs to answer some of the 'What-comes-next' type of PMP questions
Make it a habit to learn to create and use mind maps – this is a valuable tool at work as well – for presentation, ideation, brain-storming, and not to miss – impress your boss.
The book also shows some neat (did I say Free) mind mapping tools you can use on your PC or Mac.
6. eBook: The Super Guide to PMP Question Types

When you have to solve 200 questions in 4hrs, it gives you little over a minute 10 sec per question. That's all. Moreover, if you took a break for water or rest-room the clock does not stop.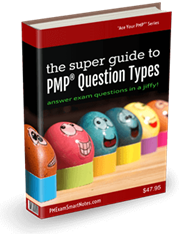 On the exam, managing your time is everything.
With each question giving you just over a minute to answer, how to you manage to take frequent breaks, relax, recharge and keep the concentration level up?

The solution is to reduce time spent on each question!
This strategy lets you afford few minutes of relaxation break every 45 mins, freshen up your mind, relax your body and get into the right state of mind to attack next set of questions.
This increases your chances of acing the exam well within 4hrs (I wish someone could've told me this trick during my exam).
Did you know that there are at least 14 TYPES of PMP questions?
Imagine identifying the question type by just looking at a question and then applying a specific strategy to answer it in seconds. This helps you accumulate precious minutes on the exam. You get more questions answered, more answers right, and feel more confident knowing that you have time on your side to answer difficult questions as you go along the exam.
This is one of the most popular PMP exam preparation books.
With 'The Super Guide To PMP Question Types' you'll get most out of your study efforts when it matters the most – during the exam.
Did you know that each question can be traced to a 'type' or 'category' and can be addressed slightly differently (than just reading through it) in order to answer it in shortest possible time ?
This book teaches you 14 different types of PMP questions, the way to handle them, and few sample exam questions to help you understand how to identify these questions.
I also reveal a strategy for answer more questions right upfront in the exam, and increase chances of your success.
You don't want to miss this book!

"Hello Shiv, Many thanks for your material [...], and also for the various explanation to the 'boring' PMBOK… …

Its so great to be on this other side of the divide…I'm glad I passed on first try and I am extremely grateful to you. Especially for that your book on PMP exam [question] types."

– Funmilola James

7. PMP Exam Smart Flashcards - Study Smart, Not Hard

Using Flashcards is a smart way of studying. With 'PMP Smart Flashcards', you study smarter.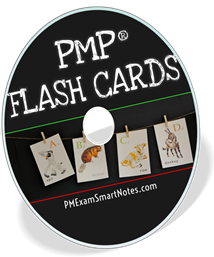 Recent research has proven that a technique called Spaced Repetition – a way to repeat information with a frequency that is inversely proportional to the difficulty level – is a great way to push information into long term memory without taxing the brain.
The simpler way of saying this is that if you study difficult bit of information more frequently than easy bit of information, you will remember it easier and longer.
'PMP Smart Flashcards' is a set of over 620+ virtual flashcards that allow you to learn important PMP terms using Spaced Repetition study technique. This will greatly reduce the amount of time you take to study for your PMP exam.
Let us study smarter and faster, instead of harder.
8. eBook: PMP EXAM MNEMONICS – Brain-Friendly Techniques to Remember Critical Concepts With Ease
Mnemonic is a device such as rhyme, formula, acronym, pictorial representation, mind maps and so on, which helps remember/recall complex piece of information.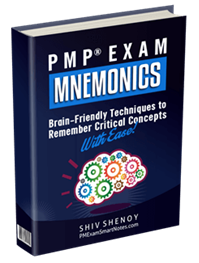 PMP syllabus has many sets of information such as lists, definitions, formulas, definitions, names of personalities and so on that are important to be understood and recalled for the exam.
Not just the exam, some of these will help manage day-to-day job as a project manager.

This book is a collection of such mnemonics – proven to be helpful in preparing for the PMP exam.

"Just wanted to let you know I went over your book and find it very well written.

You make things easy to understand and I'm reminded of the techniques of "good" trainers to ease things up while going through, often very dry, topics!"

– Ralf Maier, PMP
9. eBook: The Complete 'Ace Your PMP Exam' Series: Essential PMP Concepts Simplified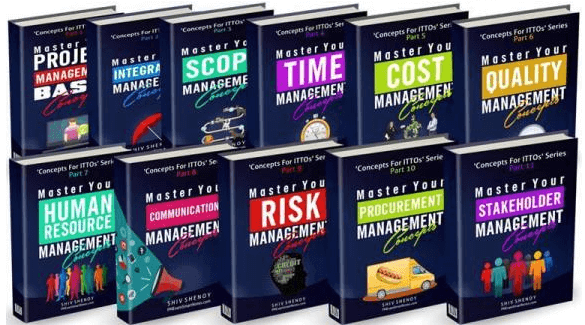 A set of 11 books that smartly condense all the PMP concepts you ever need to study for your exam. These do not include processes or ITTOs - just pure concepts that you need to understand to be able answer PMP questions.

Use these to kick-start your PMP studies to get high-level understanding and then drill-down into specific Knowledge Areas to learn more. Or use these to know where you are going in between your PMP studies. Alternately, use these just before the exam to get a hold of all the concepts. Like a revision tool. The choice is yours.
Shiv, I just want to send a note of Thanks, for the support and advice as I sought to acquire my certification. I passed the exam on my second attempt yesterday while achieving a "Proficient", in all five domains.

Your book was a key ingredient in my success.

The process and battle to study and successfully learn the material—not rote memorization, but to truly UNDERSTAND it—was challenging. However, the test-taking skills and tips in your book were nothing short of phenomenal; they made all the difference.
- Dave Lorenzo
10. eBook: PMP Exam Cheat Sheet - Your 15 minute Revision Guide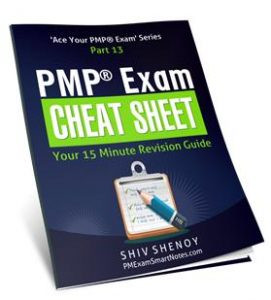 You know the power of a cheat sheet for any exam.
This book helps you go over important PMP content in like 15 minutes.
As you continue studying for the PM exam using the primary study resources, use this cheat sheet to reinforce/revise your understanding.
A great tool to study while you are commuting, or when you have some time to spare.

BONUS > eBook: How to Become a Star Project Manager

Managing projects as we know is not limited to having the domain knowledge and project management knowledge. It is about knowing the best practices followed by successful project managers and emulating the same at work.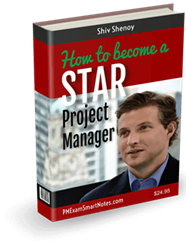 This book is a collection of corporate wisdom that has been exhibited by successful people and is available for us to use in our own experience. I have done exactly the same – studying successful people and trying to model their behavior that lead to their success.
These straight-to-the-point guide covers topics such as –
How to find your real career objective under 10 minutes
How to prepare for a project management interview and how to ace it
How to excel at work and substantially increase your chances of getting promoted at work (many project managers don't even know some of these techniques)
Understanding and looking for the symptoms that indicate whether your project might be shut down
Effective and practical techniques to manage time well at work
How to get into the 'flow' and accomplish most by being highly productive
What are the things you must avoid saying at work at any cost
How to understand and build relationship with an introvert boss
4 crucial and mostly overlooked characteristics of of an effective project manager
How to have most productive meetings and show you respect your and others' time
How to induce humor at work and increase productivity of your team
Proven ways of managing conflicts on project
and much more…
This 117 page book is a collection of 26 posts that cover various tips, techniques and methods of being a very successful project manager. This is a must-have career guidance book for any project manager!